Mailsports Donate Swimwear for Sri Lankan Women's Swim Project
Online swim specialist, Mailsports welcomed two very special guests to its showroom recently. Founder of the Aid Sri Lanka Foundation Women's Swim Project, Christina Fonfe and her Sri Lankan swimming scholarship student, Inki Abeyrathna, visited the Mailsports in Egham, Surrey, to receive a donation of swimwear and training aids to equip them for their return to Sri Lanka this month, where they will begin the next phase of their valuable work.
Christina and Inki were presented with swimwear, swim hats, flippers and teaching aids for the project. And Christina comments,
"We are all quite bowled over by this incredibly generous donation and re-energised by sky high morale to get out there and get on with the job!"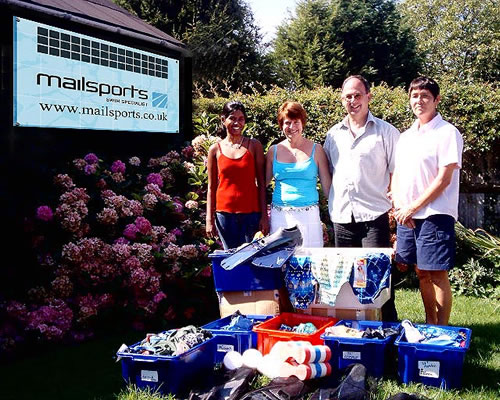 Mailsports owners, Philip and Lesley Crawford of High Wycombe, read about Christina's project in Swimming magazine earlier this year. It aims to provide Sri Lankan women with the chance to learn to swim, an opportunity that has never been available to them before. However, in the aftermath of the terrible tsunami disaster, which wracked the country at the end of 2004, this became a stated national need. Mailsports will continue to support the project as it goes forward into the future, with donations of swimwear and teaching equipment.
Mailsports
Mailsports is an independent mail order swimwear company, which strives to offer the very best swimwear and accessories available. Its range features a number of top brands including Nike, Maru, Speedo, Zoggs, Aqua Sphere, Tyr and Diana. As swim specialists, Mailsports offers a range to suit the requirements of leisure swimmers and competitive swimmers alike.
www.mailsports.co.uk
Mailsports
49 Harvest Road
Englefield Green
Egham
Surrey
TW20 0QP