Swimming Project Personality Profile - Methmi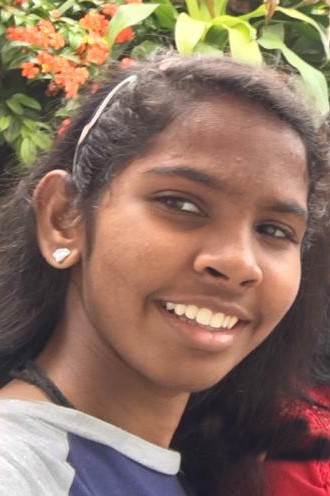 Methmi
Methmi's Mum was learning to swim with the Project in the village of Habaraduwa and in the charity pool in Galle, the UNESCO Heritage capital of the Southern Province; little Methmi could already swim as a child, and came along too. As soon as she turned thirteen, she joined the Project. Like so many of our spirited and adventurous girls, there was no holding her back and she quickly gained her icanswimcanyou certificate, proving she could float for ten minutes and swim a continuous 100 meres without touching any pool sides. From her great enthusiasm and beautifully relaxed and graceful swimming, it was clear Methmi was destined to do great deeds.
When Christina came to upgrade the qualifications of the Project's local volunteer adult swimming teachers, Mehmi was included so that she could qualify as a Student Swimming Teacher. This formal award is designed to enable teenagers to gain experience teaching people to learn to swim under supervision, in preparation for full qualification as internationally recognized swimming teachers as they get older. It was very impressive to see Methmi soak up all this new training like a sponge, especially given that she did it all this in English, her second language.
| | |
| --- | --- |
| | |
| Hard at work on Theory | Proud Award from Chris |
As the Project specializes in teaching the first learn to Float-and-Breathe lessons on a one-to-one basis, Methmi proved very adept at persuading, guiding and teaching females much older than herself to master the magic of floating confidently, flat on the surface. Placing youngsters in this position does wonders for the development of their interpersonal skills and takes their self-confidence well beyond their nominal years. One manifestation of this is that Methmi has confidently entered what is locally considered to be the Boys Own World of Surfing, demonstrating that, not only can she surf as well as they can but, that when she is in the water, she is a far better swimmer and stronger personality than all of them.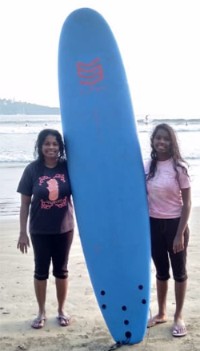 Methmi & Mum, Surf Girls!
It's wonderful to see talent like this develop and reflect back into successes into other areas, like academic studies. Teaching swimming is a wonderful rite-of-passage into young and responsible adulthood. As a Project, we are very proud that Methmi joins a growing band of our earlier, bright Project girls who have enhanced their academic and professional statuses directly through teaching swimming in their teens to adulthood. Well done, girl.
Click to download printable Microsoft Word version