Thanks to Christina Fonfé, over 6500 women in Sri Lanka now know how to swim (and can be saved)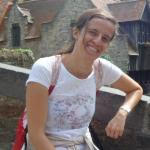 By ROBERTA DE CAROLIS NOVEMBER 14, 2020
Swimming can save lives and yet not everywhere is a right to know how to do it. So the English swimming teacher Christina Fonfé decided to spend her life for Sri Lankan girls and women to swim. Today there are over 6500 who can say "I can do it". It was December 26, 2004 and in this part of the world it was the height of the Christmas holidays. But Southeast Asia was literally submerged by a violent tsunami. Triggered by a tsunami of magnitude 9.3, it caused 227,898 victims. And among them, 80% were women and children. Because they couldn't swim.
For culture in the areas affected by the disaster, women hardly immerse themselves in water above the knee, also because putting on costume in public is not socially accepted. But, as Christina Fonfé says, Swimming is not a luxury, it is a right. And it can save lives. The swimming teacher then founded the Sri Lanka Women's Swimming Project, aimed primarily at women, to overcome cultural taboos and give them hope for the future. Assuming that if a mother knows how to swim, her children will also know how to swim.
Christina immediately thought that swimming should be taught by addressing the cause of drowning, introducing the learning of swimming starting from floating and breathing techniques. With this paradigm shift, the woman was supported, also by a scientific report presented by Robert Stallman, professor of physical education, and so in 2018 the project became a full member of the International Federation of Swimming Teachers' Association (IFSTA).
The results? Over 6,500 Sri Lankan women and girls have learned to swim. Unfortunately, they had to ask their fathers or husbands for permission, but when they really learned, they became aware of themselves. And therefore they have not only learned to swim, but they have emancipated themselves in a context of strong gender discrimination. Christina soon discovered that teenage girls are the fastest to learn and become the most helpful teachers, but it is older women who learn to swim later in life who become the local leaders and motivators, convincing others to follow the their example. "The teaching takes place in complete privacy and in an all-female training environment - it is specified on the project page - It is interesting to note that as soon as women know how to swim, they want to be seen; on the one hand by exercising their new status and on the other by advertising happiness to the now envious non-swimmers". A flame that does not want to go out © icanswimcanyou High self-esteem, confidence, success and happiness have given these women a new outlook on life.
The project was hugely successful, with female swimming teachers [subsequently] also appearing from rural Bangladesh to Zanzibar. In the future, the project aims to expand as an IFSTA member and to participate in the International Life Saving Federation's 2023 World Conference on Drowning Prevention in Colombo, Sri Lanka.
The now independent women in the water have also gained economic independence with higher education and entered professions such as nursing, law, water sports careers abroad and teaching local swimming. Changing the world is sometimes "easier" than we think.
Roberta De Carolis has a degree and a doctorate in Chemistry, and holds a Masters in Scientific Communication.
A freelance journalist, she has been writing for GreenMe since 2010.
Click to download printable Microsoft Word version