Wonderful Volunteers from The Netherlands & Italy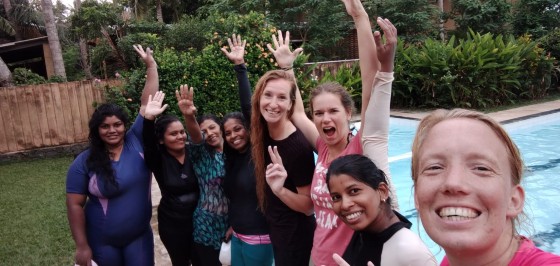 Gioconda, in the black tee-shirt, centre, and Gerdien celebrate the joy of teaching
It was wonderful to have our Dutch volunteer, Gerdien, come out to Sri Lanka for the second year running. It takes a special kind of person to work on the beach for six months in her home country so that she can support herself to travel to the far side of the planet and further the goal of teaching others survival swimming for free. When joined by Gioconda from Florence, who added an Italian flair, swimming lessons in Galle really took on an international flavour. Youth and energy abounded and our only regret was not to have more pool hours available. It is always good to have new teachers who bring fresh impetus to a Project that was originally a six-week immediate reaction to a natural disaster that morphed into a fifteen year one teasing thousands of women, with no end to the number in sight, hanks to the efforts as such volunteers as Gerdien and Gioconda.
We are particularly grateful to our Sri Lankan hosts for providing accommodation, food and an introduction to life deep in the rural, jungle-clad interior of the Island, well away from the tourist zones. It was our pleasure to meet Gerdien in person in Germany and have the opportunity to go through the development of the Project over the years and reinforce our concept of placing mastering back-float breathing as the number one survival swimming skill to be mastered as soon as possible to the point where it can be achieved effortlessly and instinctively. This level of floating skill gives the survival swimmer the option of taking a rest, unlike treading water, which is actually more energy draining than swimming any stroke.
Gioconda, on the other hand, materialized, on-the-spot, at the swimming pool in Galle, making contact with us over the ether; she turned out to be another really good trooper, giving us lots of her valuable, enthusiastic time. Such is the luck of the women and teenage girls of Galle that we have such great unasked-for and undemanding help right out of the blue from such wonderful swimming teaching enthusiasts.
Many thanks, Gerdian and Gioconda, for your great help; you will be sorely missed by the Women's Swimming Project and we hope that when this Covid Pandemic has died down, you will find your way back to us again.to Sri Lanka again. I think the picture below shows everybody's appreciation.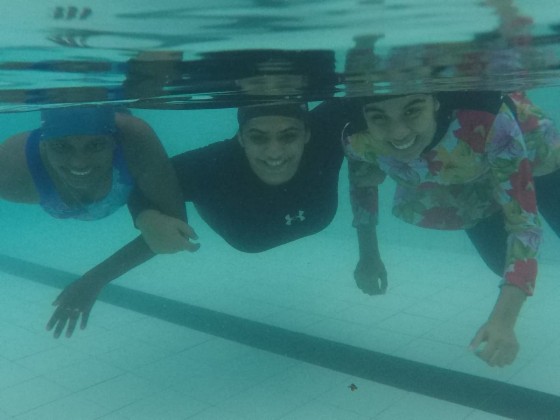 They don't come more confident in water than this, knowing they can float safely, face-up, whenever!
Click to download printable Microsoft Word version