Essential CPR training carried out
I have felt for some time that all villa owners in Sri Lanka, particularly those with swimming pools, would benefit by having a member of their staff trained in CPR to deal with any life-threatening emergency.
I was initially approached by one such villa owner and asked if I could possibly run a CPR course for the staff of selected villas along the coast. As a pre-requisite to qualifying as Swimming Teachers, the Project's own swimming teachers are themselves qualified in giving CPR. It seemed sensible, therefore, that this training could be extended on a regular basis by having the teachers pass their skills on to others under the overall supervision of the Project. And so, the Women's Swimming Project can now offer CPR and Recovery Position training to any villa staff that would like to be trained. The training includes a follow-up visit to each villa to ensure the staff there are competent in their own environment, and for those villas with pools, they are able to carry out an appropriate poolside rescue and deal with an unconscious pool casualty.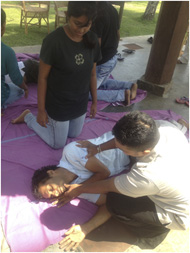 Dinusha oversees a student placing a fellow student into a safe unconscious recovery position.
The outcome of the training will mean that anyone visiting Sri Lanka can feel confident that they are staying in the safe hands of villa owners looking after the Health and Safety aspects of their guests. The Women's Swimming Project view is slightly broader: every villa staff member trained in CPR also takes that knowledge back to his own home village and has the potential to pass it on. Even for a heart attack victim, effective CPR is known to double or triple a person's chances of survival. Currently, few bystanders know what to do. So, Thank You, Girls, for doing the training.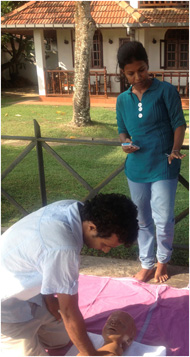 Indu monitors student Chaminda's Compression Rate
We would like to congratulate both these swimming teachers for obtaining places at University next month: Dinusha to read Physical Science and Indu to read Law . Dinusha came to us as a teenager seven years ago, while Indu joined us as a motivated young graduate just eighteen months ago. Both girls had boundless enthusiasm to progress quickly from non-swimmer to swimmer and then on to swimming teacher. We wish them well. We also hope that they will be able to help support themselves at university by giving swimming lessons in their spare time and that we will continue to see them at Ahangama Easy Beach throughout their studies to continue helping with the project.
Click to download printable Microsoft Word version