Question: What is www.icanswimcanyou.com doing upside down in China?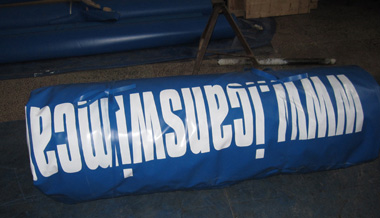 The pool liner is all folded up, ready for crating.
There is great excitement at the Sri Lanka Women's Swimming Project: the Wuhan Qipool Recreation Company Limited in Wuhan, China, has been busy manufacturing a 12 metre portable swimming pool for us to use which can be set up on any a firm, level ground, anywhere. The picture above shows the pool liner all folded up, ready for crating. It has already been shipped out of Wuhan, down the mighty Yangtze River and loaded onto the container ship, CMA DEBUSSY, which left the port of Shanghai on 2nd March, bound for Colombo. Next stop Easy Beach.
Click to download printable Microsoft Word version