Sanduni takes her Skills from Sri Lanka to Abu Dahbi
Sanduni is one of our earliest swimmers, who learned to swim in our tiny jungle pool in Palm Forest, Weligama in 2005. She then went on to distinguish herself by becoming Head Coach of Junior Swimmers at a prestigious Colombo Swim School. Now she has just taken her most recent formal STA teaching qualification and headed off the Arabian Gulf to join an international team pioneering lifeguarding and ladies swimming at a Women's Only Beach in Abu Dahbi.
Palm Forest Pool in Weligama
With the prospect of a handsome reward for seriously hot, hard work, in a land where summer beach temperatures can only be described as scorching, Sanduni is currently our furthest-flung Sri Lankan village graduate to take her skills abroad. In a ground breaking demonstration of female empowerment, she is now saving up to build her own pool in her home village and we are sure that she will succeed.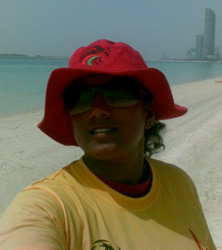 From shy sixteen year-old to international instructor, Sanduni personifies the self-confidence that teaching swimming brings benefits
We look forward to hearing further reports of Sanduni's activities, once she has settled in.
Click to download printable Microsoft Word version