Sally Adams Takes the Women Swimming in the Surf
Sally Adams from Edinburgh, Scotland, just made a donation to the Project in Sri Lanka and then decided she needed to come out here and see the activities for herself. Though she was able to visit our Women's Swimming operation at the Lighthouse Community Pool in Galle, her visit was blighted by thunder and lightning which had everyone out of the water. Her stay also coincided with our change of residence from Habaraduwa to Ahangama and so she was unable to see our residential pool at Habaraduwa.
Not being one to miss an opportunity, however, Sally surveyed the surf-laden sea in front of her at Ahangama and, after consulting Christina, thought it would be a good chance for a couple of the available teachers of the Project to experience swimming in a different kind of water.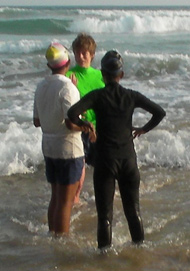 Sally Adams explains the layered nature of surf and how to swim through it.
While salt water inherently provides more buoyancy, the benefit is often lost in the welter of air and froth pulled down by a breaking wave. Add to this some fairly fast moving undertow and the odd sudden dip in the sand level underfoot and the situation can become quite challenging.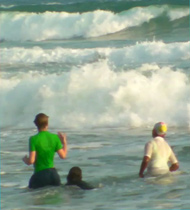 Bring it on! Close-up, the waves suddenly look large and challenging as Sally tells her charges to wait for the right moment to duck under. Then she will talk 'Water Safety' about under-tow, rip-currents and reefs.
A big Thank You to Sally for introducing all these experiences under safe controlled conditions so that our swimming teachers could feel for themselves the fun to be had on the beach, as well as appreciating the dangers of entering the exciting new aquatic environment for the first time.
The girls are already talking about what "Can Swim" competency means in the sea, compared to a swimming pool. Suddenly a 100m figure of eight swim and a 10 minute float in a swimming pool, which seemed a hard challenge in its time, is recognized as not enough. The requirement for a new definition of "Can Swim" emerges: the (Australian) standard for open water of a 400 metre distance swim, using side-stroke, survival back-swimming, face-up front crawl and underwater swimming now has visible purpose and utility, matching as it does new risks with new skills in order to enjoy a new and moving aquatic environment. Swimming just became more interesting. When they can do that, we might then just get a surfboard out.
Sally, we look forward to your next visit and thank you for your fund raising.
Click to download printable Microsoft Word version