Sri Lanka Women's Swimming Project 2011 Annual Report
Historical Background
The Sri Lanka Women's Swimming Project, motto: I can swim. Can you? was founded in Feb 2005 by Christina Fonfe after the 2004 tsunami, where 80% of those who drowned were women and children. Even now, up to 3 people every day still continue to drown on the beaches, lakes and rivers of Sri Lanka. Indeed, more Sri Lankans drown than die of dengue fever. Worldwide, a million people drown every year. Drowning is a serious killer of global epidemic proportions, which the World Health Organization and other agencies are just beginning to address on a large scale in the Southeast Asian arc.
The Project has been in unbroken operation since its inception, despite many setbacks. It has given free swimming lessons for women and teenage girls in Weligama, Ahangama, Mirissa, Habaraduwa and Galle, depending on the availability of swimming pools. The key issue for nearly all Asian women is the requirement to be able to learn in privacy, out of sight of the general male public. Since the Lighthouse Community Pool was completed in Galle in 2008, the Project has run a weekly Women Only Day there and, for the last two years, at a private residence in Habaraduwa. As always, the aim has been to make women safe in water and to train as many as are capable as swimming teachers so that they can teach others and make the process self-sustaining.
Principal support for the Project comes from the Lifesaving Foundation of Ireland which pays the stipendiary salaries of the local teachers and the Sri Lanka Aquatic Sports Union which has sponsored residential visas for the Project Founder to carry out her work over the years. The Project remains small, as it is limited by funding for teachers and further limited by the lack of permanent access to suitably secluded swimming pools.

The exclusive use of the Lighthouse Community Pool has been a key factor in the success of women swimming in the Galle, where 40 to 60 women learn to swim for free each week.
2011 Annual Report
2011 has been a busy and tense year. The Project Founder rented out her home in the UK in order to rent a residential property in Sri Lanka with a suitable pool for teaching swimming. The move to Sri Lanka on a more permanent basis has meant that the expense of only having one foot in the UK and managing the Project at a distance with only 3 visits a year to Sri Lanka could be eliminated. Moreover, the Project really needed a continuous presence to inspire and guide trainee teachers and keep the momentum of training going. It should be appreciated that most of the teachers have only just learned to swim themselves and need considerable leadership and further training to build up their experience and confidence to be able to operate independently.
However, in 2011 it took an anxious six months in country for the visa process to work its way through the Ministry of Sport and Department of Immigration into an annual residential visa in a passport. Voluntary work, even unpaid, on a tourist visa, is simply not allowed, just as is the case for tourists visiting the UK.
The Project this year has been based in Habaraduwa, a small rural, coastal village just south of the Provincial Capital of Galle. Recruiting girls and women to swim in this community proved quite challenging as, for many, the experiences of the tsunami were now a 7 year old memory. In this thinly populated area, it was originally difficult to persuade women of the need to be safe near the waters of Koggala Lake which surrounded them. However, following several door-to-door recruiting campaigns, many women finally came forward to learn to swim.
By the end of the year, four of the girls had been trained as International Federation of Swimming Teachers Association STC(Beginner) swimming teachers. Their enthusiasm and commitment was a delight, particularly since two of them had never been in any kind of body of water before April. In the space of seven months, they each mastered all the strokes and then went on to learn how to teach others with empathy, clear instructions and encouragement.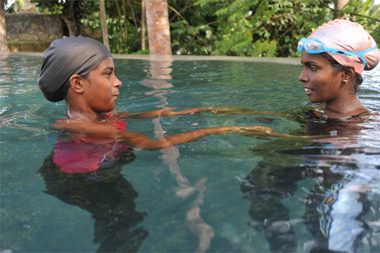 The secret of our success is on-to-one instruction, where eye contact, physical contact and quiet, stage-by-stage instructions usually gets a complete non-swimmer to float-and-breathe into a closely supervised but completely independent back float in their first lesson. Once the student knows that they are completely safe in this position, confidence soars and they can then be taught movement.
In the Lighthouse Community Pool at Galle, which is used exclusively for women on Monday afternoons, the Project regularly has between 40-60 women for lessons. The 25 metre-long Community Pool has a proper deep end so, when an 'icanswimcanyou' Certificates are issued to individuals, they really can swim and have sound aquatic competence in deep water. The Project continues to espouse the concept of learning to Float-and-Breathe from the very outset in order to be safe in water. As they learn to do this for longer and longer periods, they combine the skill with learning to swim longer distances and more styles. The key factor for survival remains their ability to rest and float indefinitely at will any time. While many have learned to swim in the small Habaraduwa pool, the larger pool at Galle has a social dynamic of its own. A particularly popular spectacle is to do a mass Float-and-Breathe every now and again. On the occasion shown below, swimmers who had been trained up to seven years ago were invited to do a mass float and it is pleasing to report that remembering how to float is like learning to ride a bicycle – it is a skill one never quite forgets.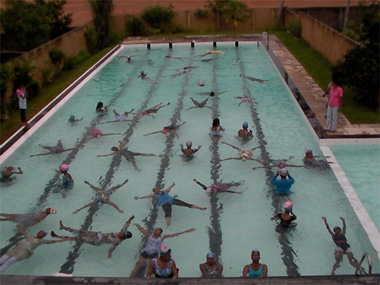 An effortless back float guarantees an open airway and unrestricted breathing, and encourages unhurried rational thought about what to do next. Being mainly Buddhists, the Sinhalese are particularly good at meditating for the ten minutes we require students to float for as part of the 'icanswimcanyou' certification, the other part being a 100m figure-of-eight non-stop swim.
In a bid to widen and popularize the experience of learning to swim, the Project has run a small trial of "Mother and Baby" sessions. This could be expanded in the near future, if extra funding for additional teachers can be found. The aim would be to draw in young mothers who, due to child-minding, would otherwise not have the opportunity to learn to swim. And, of course, "Mother and Baby" sessions condition their infant children to recognize that getting wet is a fun activity to look forward to. In early 2012, a new 25m swimming pool being built by a Dutch charity will open on the Habaraduwa beach front. The Project looks forward to establishing Women's Days there and, of course, to finding full-time paid employment for the Project's trained female swimming teachers.
The critical path to expanding swimming in Sri Lanka remains a shortage of suitably qualified swimming teachers; in rural and coastal communities, for women and teenage girls to learn to swim, the swimming teachers still have to be female. Once women have learned to swim, the sight of families at the beach where the men and boys swim in the water and the girls remain fully dressed, paddling in the shallows, will gradually become a thing of the past.
The ultimate goal is to make Sri Lanka a nation of swimmers, just as currently it is a nation of cricketers. However, the task of achieving this is made all the harder because the potential teachers first have to be taught how to swim themselves. The Project is also planning to publish a low cost Float-Breathe and Swim Manual in large format, easy-to-read plain English, with side-by-side translation in any language. The plan is to make it downloadable from the internet and available also as a mini video compact disc; a sample page is below:
As always, the Project Founders are enormously grateful to the Lifesaving Foundation of Ireland and the Sri Lanka Aquatic Sports Union for their unstinting support and, especially, their encouragement; without these there would be no Project.

Christina Fonfe'
Habarduwa
January 2012
Click to download printable Microsoft Word version