Women's Swimming Project Swimming Teacher
Umesha de Silva

Arrives in Australia

We are delighted to report that one of the girls we taught to swim and then became a UK qualified student swimming teacher for the Women's Swimming Project, Umesha de Silva, has just arrived in Melbourne, Australia, this month to go to university there.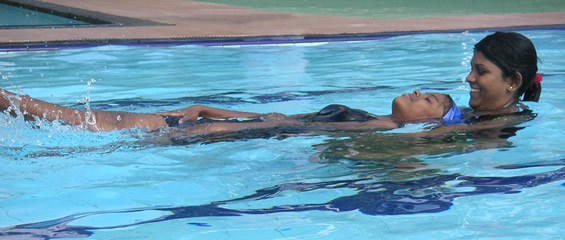 Umesha getting a non-swimmer ready to swim on her back by herself for the first time
Umesha de Silva has been one of the most important pillars of our Project; she and her sister Dinusha have taught many adults and teenaged girls to swim in various pools along the south coast, while her mother kept track of the swimming records and father transported them about – truly a great swimming family. We shall miss Umesha's cheerful, boisterous enthusiasm, which has rubbed off on so many swimmers and made the lessons so much fun. We know that she will be a great ambassador for Sri Lanka and for women's swimming in particular.
And, a special word to Umesha from the rest of us here, in the Women's Swimming Project:
"Once you have settled down, do check into your nearest Swim Australia swimming school – they will be expecting you! Swim Australia have just joined the International Federation of Swimming Teachers Associations and we at the Sri Lanka Women's Swimming Project hope to meet them at the next conference, to be held in Hong Kong.
Good luck, Umesha, from all of us at www.icanswimcanyou.com"