UK's Swimming Teachers Association Technical Development Officer Swims for Sri Lanka
Garry Seghers, Technical development Officer to the UK's Swimming Teachers Association, plunged into icy open water and raced to raise money for the Sri Lanka Women's Swimming Project.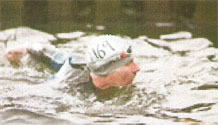 Garry ploughs through the icy cold water
The inky black cold conditions Garry had to tough it out in are just so different from balmy blue palm-fringed waters where our girls and women learn to swim. Nevertheless, it makes little difference if the water is cold or warm; if one cannot swim, then drowning is the one certain outcome we all wish to avoid. Garry's plunge will contribute to a several month extension of our women's weekly learn-to-swim programme in Sri Lanka, allowing whole new batch of non-swimming mothers and teenage girls to be given the opportunity to learn to swim.
A cold, wet and exhausted Garry
Next year, we hope that Garry might come out to visit the Project in Sri Lanka and swim in warmer waters. By then, some of the non-swimmers he has given the chance to learn to swim will be saving lives by teaching swimming to the next generation and will be ready to share some of his technical expertise for themselves. From the Women's Swimming Project, a hearty Thank You from all.