September Tune-up for our Swim Teachers
In September, Christina and I had hoped to represent the Project at the International federation of Swimming Teachers Associations (IFSTA) bi-annual conference in Taiwan. Sadly, with funds so tight, we felt we could not really justify the expense and regrettably cancelled at the last moment. However, no sooner had we done that, then Emirates Airlines proffered a surprise free ticket for Christina to go out to Sri Lanka and Speedo International donated a second one for me, so we took the opportunity to give continuing professional development (CPD) training to our existing female swimming teachers.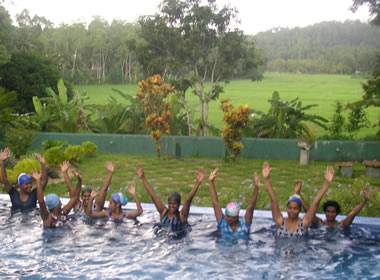 Hands Up if you would like to do your CPD here! Those are rice paddies in the background.
As on previous trips, Chris has always taken the opportunity to teach female staff at hotels with swimming pools, however modest, on order to improve their water safety. It is always very gratifying to see how well girls she had taught to swim earlier make out; the management report that the girls look fitter, are hugely more self-confident and really look forward to coming to work, knowing they can have a swim at the end of their shift.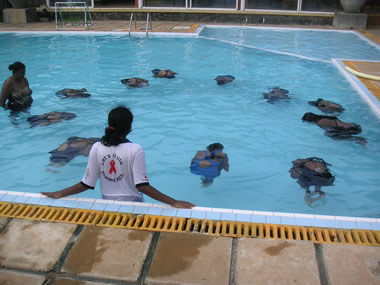 This is the kind of progress we want to replicate everywhere
We also reinforced our links with the Lighthouse Community Pool but realize that once a week for women only is not really enough. We have gradually come to the conclusion that overcoming the chronic shortage of female swimming teachers has to be the top priority and that a public pool is too expensive to build, takes too long in planning and construction and creates a long term sustainment demand for funds we cannot possibly hope to raise.
So, we are directing our efforts towards a Swimming Teachers Academy. We are therefore looking to lease a suitable private property with a swimming pool and residential quarters so that we can accommodate and train women swimming teachers safely on concentrated, full time residential courses and set them up with business packs to go forth and open up swimming in widely spread communities around the island. Surprisingly, more people drown in the interior lagoons, lakes and rivers than on the coast and. Altogether drowning kills more people than die of HIV Aids.
In the meantime, we are delighted to learn that the IFSTA has gained three really important swimming countries, Germany, Australia and the United States of America and hope that they may spare a thought towards improving swimming educational opportunities in Sri Lanka.