Readers will appreciate the importance of our early discovery, shortly after the December 2004 tsunami, of a secluded swimming pool on a coconut plantation which enabled us to launch a Project to teach hundreds of local Sri Lankan women and teenage girls to swim in complete privacy and security for nearly two years.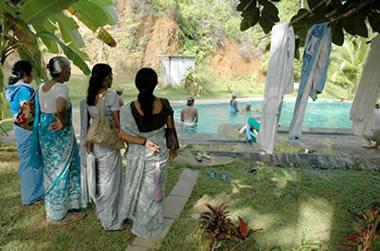 From Sari to Swimsuit - the iconic view of Palm Forest Plantation pool
Sadly, our 2006 Report ended with the expectation that the grace-and-favour use of the Palm Forest Plantation swimming pool would cease when the property was sold at the end of the year. Thus, shortly after our last group of girls qualified as STA Student Teachers, we had to close down our operation at Palm Forest and limit ourselves to teaching small numbers of women using rented pool time at local hotels desperate for custom in the absence of any tourists.
Our goal for 2007 therefore has been to continue to expand the base of women swimmers and find jobs for the swimming teachers we had already trained. In January, following chemo and before surgery for my breast cancer, I took the opportunity to go to the USA in order to see one of Terry Laughlin's Total Immersion Workshops to ensure that my teaching methods in Sri Lanka were up to date.
In April, following surgery and before my radio therapy treatment, I went back to Sri Lanka to check on the progress of the Project. Naturally, out of nostalgia, I visited Palm Forest and found that in the months following its sale, a jungle of growth had reclaimed the gardens and that the pool had returned to the same stagnant, dark green home for tropical creatures it had been when we first discovered the place soon after the tsunami.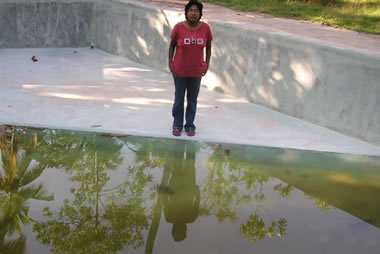 Nothing so sad as a swimming pool full of green water
Luckily, the new Australian owners of Palm Forest, Krissy and Murray McLean happened to be in Sri Lanka at the same time and I just managed to locate them the day before they were due to leave. They kindly invited me to dinner. I explained to them the why and what of my earlier activities at Palm Forest prior to the sale of the property and directed them to view our web site. Without hesitation, they immediately offered the Women's Swimming Project the continued use of Palm Forest, up to the commencement of building work. They also very kindly undertook to meet the cost of a new swimming pool pump, volunteered to pay the electricity and chemical bills and even the monthly wages of a suitable person to maintain the pool.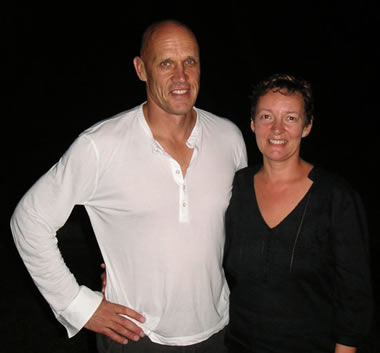 New Plantation owners Krissy & Murray McLean
I therefore delayed my return to the UK by a several weeks. Our two swimming teachers and our hire car driver, whom we had just happen to use as a student for the girls to teach the previous year, were all organised to get things in order. Together, we set to with a will, chopped down vegetation, bucketed the remaining dirty water out the pool by hand and scrubbed down the insides of the pool. We ordered and installed an electrically safe modern pool pump and brought in enough bowser-loads of water by tractor to refill the pool in a day. A young man named Mahesh, who had been instrumental in keeping the old pool pump running during our earlier tenancy, was recruited and trained to maintain the pool.
| | |
| --- | --- |
| Out with the dirty water | Clean water arrives by tractor |
Within a week, from start to finish, we had the old pool up and running and 45 new students learning to swim. Umesha and Dinusha de Silva, the Project's newest swimming teachers, trained by us last October, were to be in charge, supported by their mother, the old caretaker's wife and the new caretaker's wife and her daughter, Supini. Supini had shown herself to be a very enthusiastic student and was appointed to take over the role of swimming teacher's helper that Dinusha and Umesha used to have when I was fit. Supported by the community, the girls have worked like Trojans through the summer and, so far, have taught 489 lessons in addition to their school studies.
Umesha and Dinusha at work in the now clean pool
In parallel, Inki Abeyrathna, our very first ASA and STA trained teacher, was asked to teach local expatriate children to swim in another private pool. Remembering that all of our swimmers are adult women or teenage girls, it was fortuitous that Inki should have already gained the necessary experience teaching children whist she was our guest in the UK.
| | |
| --- | --- |
| Inki with her new charges | Sanduni makes the Academy |
Inki is now back at university and helps to support her studies through her swimming teaching. Finally, our last new teacher, Sanduni Samrarathna, has joined the full time swimming teaching staff of the Rainbow Swimming Academy in Colombo as a junior coach.
On this high note, I returned to the UK for the next phase of my cancer treatment and to take stock of how to advance the Project. All along the coast of Sri Lanka, international and local post-tsunami efforts are building new accommodations for communities. We have high hopes that we can persuade one or two of them to include a modest swimming pool in their build so that we can continue to save lives by teaching swimming, along with the additional health, fitness, micro-economic and social benefits that swimming brings.
We thank all our very generous donors whom you can see in our website at www.icanswimcanyou.com for their unstinting support of our belief that being able to swim is a part of an individual's right to live. It has been an amazing roller-coaster year. We look forward to expanding our efforts to include pool rescue, resuscitation, first aid and pool maintenance in our programme for 2008.
Christina Fonfe'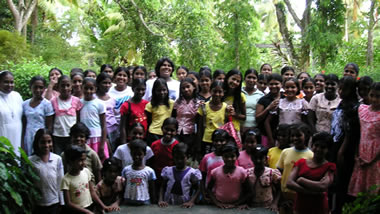 Our reward – lots of happy smiling faces